All You Need To Know About Car Donation in Baltimore, Maryland
Donating a car, SUV, truck, boat or RV in the Baltimore county of Maryland is quick and simple! Our charitable organization accepts automobile donations in order to give financial support to breast cancer patients. All you have to do is fill out the online car donation form, on our website and we will take care of the rest. We will have your car picked up by a professionally licensed, insured towing company at a convenient time. It's absolutely FREE of cost to you, quickly arranged and efficient! A car donation to us will make you eligible for the maximum tax deduction and we will issue you with an IRS tax receipt for your records.
If you are a Baltimore, Maryland resident looking to donate your old car for a good cause and have questions to ask, you can reach us toll-free at 800-304-8983 seven days a week. One of our friendly vehicle donation operators will be more than happy to assist you!
Read below to have your frequently asked questions on Baltimore car donation answered.
Frequently Asked Questions on donating a car in Baltimore, Maryland:
1. In which regions of Baltimore does your service operate?
We arrange for the pick up of automobile donations from all regions of the metro Baltimore area. We have alphabetically listed some of the primary locations below for your reference.
Annapolis
Baltimore Heights
Columbia
Downtown Baltimore
Dundalk
Ellicot City
Essex
Gaithersburg
Gwynn Oak

Kenwood
Lochearn
Overlea
Rosedale
South Gate
Severna Park
Towson
Woodlawn
2. What paperwork do I need to donate my car in Baltimore?
Ideally, we need the title/pink slip to the vehicle, but it is possible to donate without them. Just call one of our friendly vehicle donation operators toll-free at 800-304-8983 seven days a week and they will go through the whole process. On arrival the tow truck driver who is professionally licensed, bonded and insured, will help you with all paperwork and requirements. You can also refer the Maryland Motor Vehicle Department website for more information.
3. Will I get a tax deduction if I donate my car in Baltimore?
Your car donation in Baltimore made to our bona fide charitable organizations, is tax deductible. However, individual tax situations may differ and we request you to consult your tax expert about the applicability of tax deduction to you before moving forward with your car donation. Speak to a trained operator toll-free at 800-304-8983 anytime of the week.
For information on vehicle donation in the state of Maryland, please refer to our Maryland Car Donation information page.
On behalf of all the women helped by your charitable car donations nationwide, we would like to thank you for your kindness.
Some Useful Links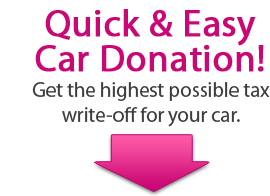 Just fill out the form below
or Call 800-304-8983